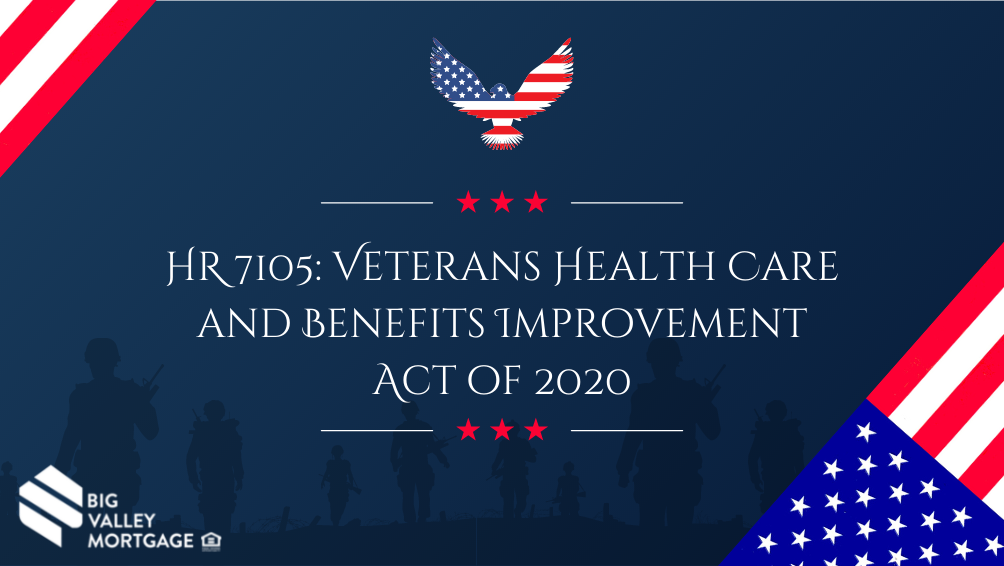 This article discusses the new law that was signed in January called HR 7105 The Veterans Health Care And Benefits Improvement Act of 2020.
On January 5th, 2021 President Trump signed the HR 7105 the Veterans Health Care and Benefits Improvement Act of 2020. This act is lengthy, but it does many important things for veterans.
This act has updates regarding those of you either currently serving in the National Guard or with prior National Guard service.
Prior to this new law, in order to use the VA home loan benefit, you must have served six years in the National Guard and have at least 16 participation points per year for six credible years. Or you needed to have served at least 90 days of Title 10 Federal orders.
If you had served those 90 days, you were eligible.
With this law, there is a new class of veteran. For those of you who have served 90 days- with 30 of those days being consecutive – of Title 32, you are now eligible to use the VA home loan benefit.
This is a big, big deal!
If you wanted to buy a home and were in the National Guard, you weren't eligible to use VA, didn't have 20% down or had challenged credit, you would be in a home loan with monthly mortgage insurance.
With this new law, now that you're eligible to use VA, you can refinance out of your current loan if you're paying mortgage insurance into VA, where there's no monthly mortgage insurance. This gives you an opportunity to lower your monthly payment by quite a bit.
In order to do this, we always need to get documentation to send to VA to determine if you have eligible time and service. When they determine you have eligible time and service and character of service, they issue what's called a Certificate of Eligibility. To issue that certificate we need:
● Title 32 orders with any and all modifications
● Point summary
You can get these from your virtual MPS, commander support staff, customer service center, the person who created your orders or the personnel center. Or we can get a statement of service.
This is so we can determine that you have all the points that you need, that you served on those orders and that you got 90 days with at least 30 of those that were consecutive.
If you're thinking about using your VA home loan benefit, the answer is no if you don't ask, so please, just ask!
To learn more about this and other topics, you can get in touch with me at Andrew@WealthWiseMortgage.com or 916.932.7160